With a growing participant list of over 170 South African celebrities, well know personalities, media and industry players who have committed to plunge, the 5th annual Special Olympics South Africa Polar Plunge marks the biggest since its inception in 2017. With 10 days to go, the organization today officially announced the 'final' list of plungers participating this year. Funds raised will support the 2021 Special Olympics South Africa (SOSA) National Team who will be competing in the 2023 Special Olympics World Winter Games in Russia. The Winter Games have been postponed to January 2023 due to pending wave 4 concerns globally.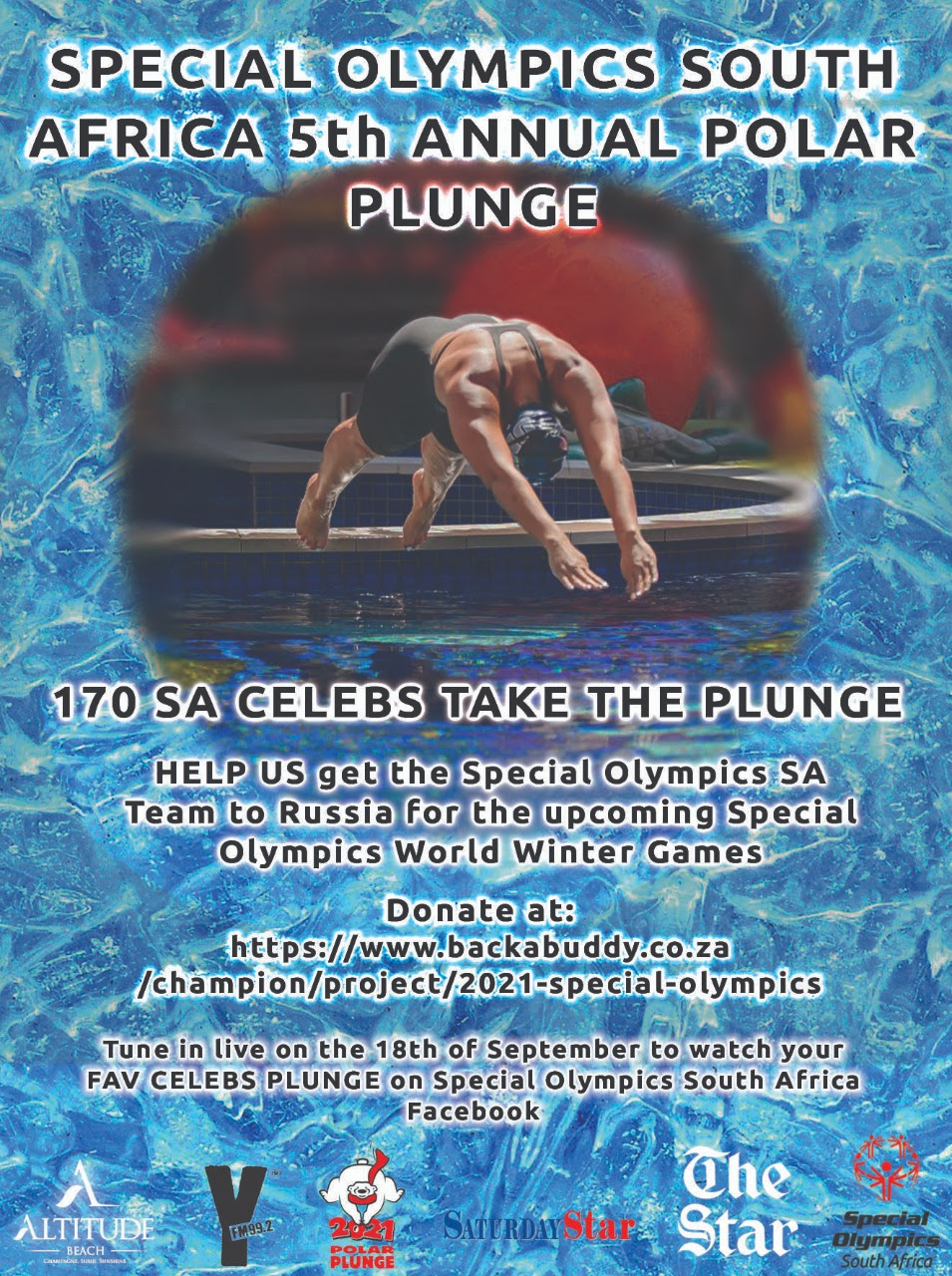 The Polar Plunge is an annual Special Olympic South Africa fundraising event, which has received overwhelming support from media, celebrities and corporate South Africa over the past four years. Participants commit to taking the "plunge" into a pool with 5 tons of ice in it! Most participants also commit to a "plunge fee" which goes to SOSA for various programmes and initiatives in support of their living with an intellectual disability.

The event has received huge backing from media giant YFM, the biggest youth station in the country, over the past 3 years. This year YFM will once again support with 7 of their DJ's taking the "plunge" – DJ Xtremme, DJ Fae Fae, DJ Flax, Petula El Kindiy, Lula Odiba, Lumko Johnson and Tshepi Mabulana. The station will also broadcast live at the 5th edition of the Polar Plunge taking place on Saturday, 18th September, at SOSA's long-standing supporter and partner Altitude Beach in Fourways.
 
The event will be MC'd by SOSA Ambassadors Kim Jayde and Sbu Shongwe and Award-Winning Radio Presenter YFM's own Lula Odiba.
 
Supporters keen to get involved and support their favourite "plunger" can donate online at https://www.backabuddy.co.za/2021-special-olympics
 
Sadly, due to the ongoing restrictions, the event is not open to spectators. However, the 5th Annual Polar Plunge will be live-streamed on all Special Olympics South Africa social media platforms. Plungers will be staggered to adhere to the restrictions and a number of plungers that are not able to attend will be plunging remotely.  

This year's list of Special Olympics South Africa (SOSA) ambassadors, celebrities and other well-known individuals taking the "plunge" include:
Dr Mathews Phosa (SOSA Chairperson)
Mark Fish (Sports Legend)
Valentino Vergotine – (SOSA Gold Medallist and board member)
Ricardo da Costa (Music Industry Leader)
Kim Jayde (Award Winning Media Personality)
Melanie 'Hypress' Ramjee (SOSA Deputy Chairperson / Renowned Publicist)
Jovial Rantao ( Magazine Editor / SOSA Board Member)
DJ Xtremme (YFM)
DJ Fae Fae (YFM)
Lula Odiba (YFM)
Tshepi Mabulana (YFM)
Petula El Kindiy (YFM)
DJ Flax (YFM)
Lumko Johnson (YFM)
2LeeStark (Artist)
37MPH (Artist)
Abiah Mahlase (Fashion Designer)
Abigail Visagie (Media Personality)
Angel Pather (Reality TV Personality)
Angie Santana (Artist)
Ashmund Martin (Media Personality)
Atandwa Kani (International Actor)
Belinda Gains (Fitness Trainer)
Bianca La Grange (Actress / Singer)
Boitumelo Rametsi (Model / Content Creator)
Boogy Maboi (Acclaimed Stylist)
Brad Muttitt (Creative Director / Fashion Designer)
Brett Richard (Fitness Coach)
Bujy Bikwa (Media Personality)
Katlego Chipa (Queer Way of Life presenter)
Amanda Lungela Ntshiba (Queer Way of Life presenter)
Cantara Farouk (MUA)
Carissa Cupido (Media Personality / Model)
Cedric Fourie (Acclaimed Actor)
Chris Jaftha (TV Personality / Actor)
Clarissa Mancas (Content Creator)
Clink Brink (Actor)
Courtnae Paul (Artist)
Courtnell Skosan (SA Rugby Player)
Cyprian (Media Personality)
KUDZ (Artist)
Danine Naidoo (Artist)
Darren Meltz (Magazine Editor)
Diamond Thopola (Soccer Player)
DJ Lyndrish (Artist)
Dj Sabby (Artist)
Doowap (Artist)
Emanuela Dunn (Content Creator)
Eric Macheru (Acclaimed Actor)
Farah Fortune (Award Winning Businesswoman)
Francois Louw (Actor)
Gigi La Mayne (Artist)
Guy Gal Conner (Content Creator / Brand Ambassador)
Heather Hook (Media Personality)
Jarred Doyle (Celebrity Publicist)
Jill Snijman (Digital Marketing Specialist / MUA)
Journalist DJ (Artist)
Judie Kama (MUA / DJ)
Kamo Moth (Media Personality)
Kay Sibiya (Acclaimed Actor)
Kayise Ngqula (Media Personality /Businesswoman)
Kevin Mclennanza (Content Creator)
Keoagile Kevin Mohoni (Team Carve Africa)
Kid X (Artist)
Kim Sineke (Celebrity Publicist)
KLA (Artist)
Kuli Roberts (Media Personality)
Lady X (Artist)
Lalla Hirayama (Media Personality / DJ)
Lelo Ndalo (Content Producer / Industry Leader)
Leon Haasbrook (Celebrity Publicist / Fashion Industry Leader)
Lesang Kgosana (Media Personality)
Letshego Zulu (Author / Businesswoman)
Liam Maconi (Media Personality)
Linda Moeketsi (DJ)
Lionel Mapoe (SA Rugby Player)
Liz Khan (Media Personality)
Lloyd Hotsense (Fashion Designer)
Lorcia Cooper (Acclaimed Actress)
Lucille Slaffa (Award Winning Businesswoman)
Lwazi Moletsane (Showbiz Editor)
MaBlehr (Media Personality / Artist
Marisa Calvert (Award Winning Sports Publicist)
Mbali Ndlela (Fashion Designer / Content Creator)
Melissa Charnley (Businesswoman)
Melissa 'Missy' Roberts (Content Creator)
Melody Zondo (Mrs Universe SA)
Michael Julius (Fitness Coach / Actor)
Mikhayla Farouk (Fashion Designer)
Jo Judnick-Wilson (Mrs South Africa finalist)
Roxy Van Bruwaene (Mrs South Africa finalist)
Natalie Leach (Mrs South Africa finalist)
Anele Sikakana (Mrs South Africa finalist)
Tanita van der Merwe (Mrs South Africa finalist)
Thammy Young (Mrs South Africa finalist)
Chane Todd (Mrs South Africa finalist)
Farrah Rymer (Mrs South Africa finalist)
Nompikazi Mokgatle (Mrs South Africa finalist)
Gwen Taylor (Mrs South Africa finalist)
Michelle Forsyth (Mrs South Africa finalist)
Patricia Vermeulen (Mrs South Africa finalist)
Zaza Letsholo (Mrs South Africa finalist)
Stacy van den Heever (Mrs South Africa finalist)
Tumi Msimang (Mrs South Africa finalist)
Mark Mac (Culture Specialist)
Mulisa Mudau (Media Personality)
Nicole Bessick (Actress / Fitness
Nicole Capper (Media Personality / Businesswoman)
Nicole Ogle (Businesswoman /Model)
Nina Hastie (Actress / Comedian)
Ninel Musson (Award winning Businesswoman / Music Industry Leader)
Nobuhle Mahlasela (Acclaimed Actress)
Nompumelelo Maduna (Miss Earth South Africa 2021)
Nombulelo Fox (Media Personality)
Nomuzi Mabena (Artist)
Ntosh Gazi (Artist)
Ntsiki Miya (Magazine Editor)
Nyalleng Thibedi (Actress)
Oneida Cooper (ex SA Olympic Swimmer)
Oscar Mbao (Artist)
Paledi Segapo (Fashion Designer)
Patty Monroe (Artist)
Paul Kamanga (Sportsman)
Paul Modjadji (Award winning Choreographer)
Penny Lebyane (Media Personality / Businesswoman)
Phil Mpela (Media Personality)
Poppy Ntshongwane (Media Personality / Businesswoman)
Que Slays (Media Personality)
Quinne Brown (Acclaimed actress)
Rami Chuene (Acclaimed actress)
REASON (Artist)
Rouge (Artist)
Roseanne Hall (Content Creator / Model)
Roxy Burger (Media Personality / Businesswoman)
Samkelo Ndlovu (Artist / Actress)
Semone Skosan (Businesswoman)
Sbu Shongwe (Sport Media Personality / Artist)
Sebastian Dark (DJ)
Sekoati Sk Tsubane (Actor)
Selloane Moleli (Magazine Editor)
Shelton Forbes (Artist / Media Personality)
Sian Goliath (Media Personality / Businesswoman)
Sibu Mabena (Businesswoman)
Simphiwe Dlulu (Sport Coach /  Sport Media Personality)
Simphiwe Majola (Acclaimed Publicist)
Shekinah (Artist)
SK Khoza (Acclaimed Actor)
Speedsta (DJ)
Spokenpriestess (Artist)
Stacey Holland (Sports Media Personality / Yoga Coach)
Steero Godson (Artist)
Steffi Brink (Reality TV Star / Model)
Sunshine Shibambo (Businesswoman)
Switch (DJ)
Tamarsha (Artist)
Taryn Louch (Media Personality / Businesswoman)
Taylor Jaye (African Artist)
Tehilah Simantov (Entreperneur)
Thami Dish (Brand Advocate)
Thandy Matlaila (Acclaimed Actress / Sport Coach /  Media Personality)
Theo Kgosinkwe (Award winning Artist)
Trevor Gumbi (Comedian)
Valentine Gaudin (Music Industry Leader)
Vourne Kgosinkwe (Content Creator)
Voukes James (Award winning Artist)
Wanda Baloyi (Artist / Reality TV Star)
Wardah Hartley (Reality TV Star / Yoga Coach)
Waylene Beukes (Comedian)
Yaya Mavundla (Reality TV Star / Award winning Activist)
Zingah (Artist)
Sylvester Chauke (Multiple Award winning Businessman)
Michael Bender (Industry Player)
Ancilla Smith (Special Olympics South Africa CEO)