The fourth edition of the Music In Africa Conference for Collaborations, Exchange and Showcases (ACCES) will take place in Johannesburg at two venues (Sci Bono and ConHill) from 25 to 27 November. ACCES is the leading pan-African trade event for music industry players to exchange ideas, discover new talent and create business linkages. The event is held in a different African city every year, attracting active music industry players from across the globe. The Johannesburg edition of ACCES will feature delegates from more than 50 countries, and an exciting programme including keynotes, panel discussions, exhibitions, performances and industry awards.
ACCES' conference line-up includes some of the most influential music industry professionals in Africa; Master KG, Busiswa, Slikour, Msaki, Sevi Spanoudi, Gigi Lamayne, Muzi, Rashid Lombard, Moreira Chonguica, Ninel Musson, Priddy Ugly, Ruddy Kwakye, to name a few. Performing artists confirmed for ACCES 2021 include Msaki (South Africa), Dendri Stambeli Movement (Tunisia), Wamwiduka Band (Tanzania), Yugen Blakrok (South Africa), Tommy WÁ (Nigeria), Worlasi (Ghana), Thobile Makhoyane (eSwatini), Urban Village (South Africa) and Diamond Thug (South Africa).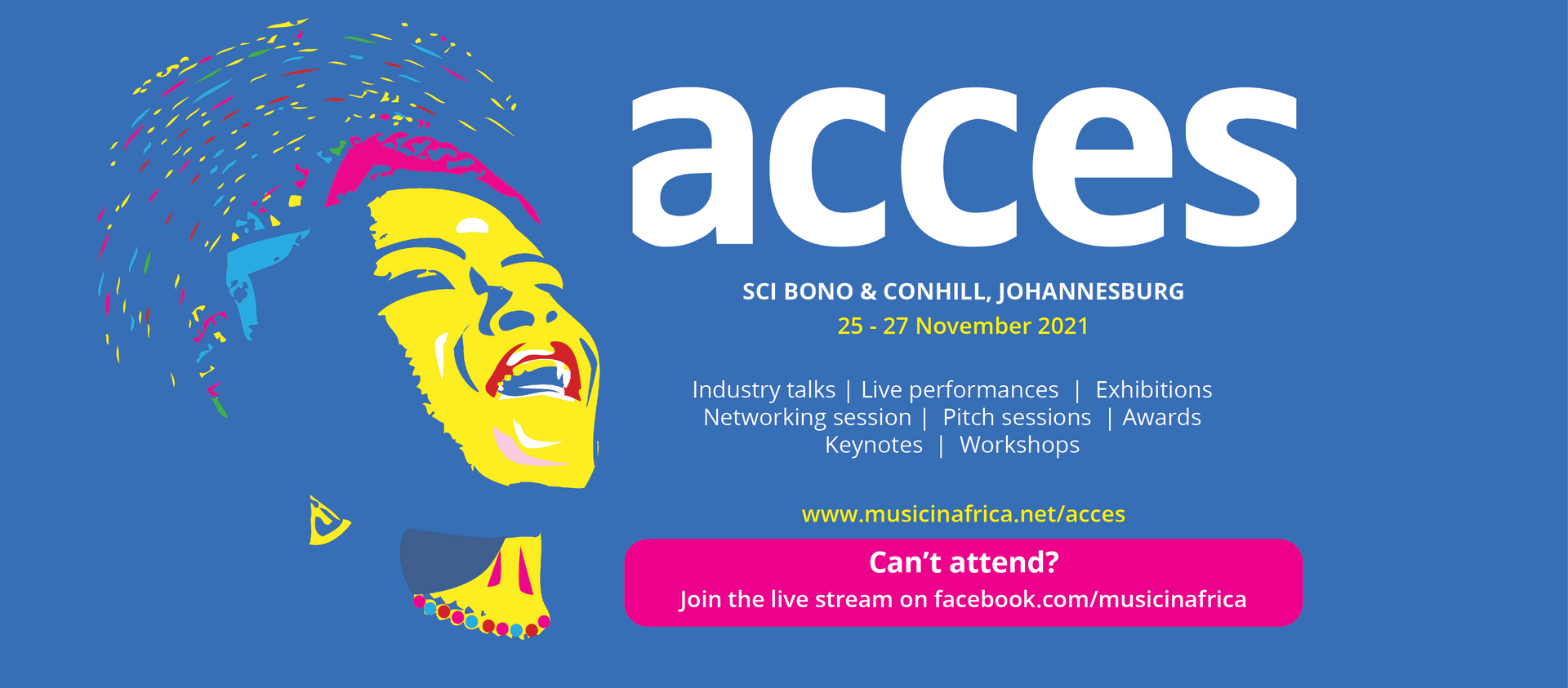 ACCES is also partnering with the Bassline I AM HERE concert on 27 November to present Stogie T (South Africa), Thandiswa Mazwai (South Africa), Sampa the Great (Zambia), Laliboi (South Africa), Moonga K (Botswana), Morena Leraba (Lesotho) and Ikati Esengxoweni (South Africa).
Partners
ACCES is organised by the Music In Africa Foundation, a non-profit and pan-African organisation, in partnership with Reeperbahn Festival International, Siemens Stiftung, Goethe-Institut, Joburg Tourism, Sci-Bono Discovery Centre, Ditto Music, SACEM, Pro Helvetia and Tuerk Music.